The Chelmsford Chronicle of Friday 25 July 1924 reported: Captain Hart has the distinction of being the first member of the Brigade to receive the Cross for Courage," for conspicuous bravery at a fire, at which he suffered personal injury." 
The presentation was made at the Brigade festival held at Crystal Palace in 1922. The Hendon and Finchley Time, 9th June 1922 reported: The "Cross for Courage" was presented to W.O. Hart, of the 1st Westcliff Company, 2nd Essex Battalion, who risked his life in a fire at the Hyde Station, Colchester, in August last. 
The Boys' Life Brigade regulations allowed leaders to be eligible for the Cross for Courage. C V Hart was a Warrant Officer at the time of the rescue in 1921.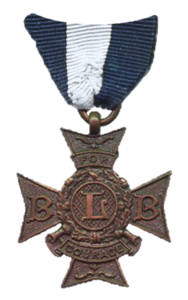 This account has been complied using records held in The Boys' Brigade Archive Collection, local and national newspaper archives and other sources. If there are any omissions or errors we sincerely apologise, and request that you come forward with this information, so that this can be corrected.
archive@boys-brigade.org.uk