The Sheffield Independent Newspaper of 19th November 1923 reported: The diploma for bravery the Royal Humane and the Cross for Courage of the headquarters of Boys' Life Brigade (London) were presented by Major Tuffnell, Deputy Commissioner of the Sheffield Division, to Private J. W. Saville (15) of the Sheffield Company (Portmahon), for his gallant attempt, on 13 July, to rescue boy from the River Don. After a second attempt he got the boy to the bank, but artificial respiration proved unavailing.
The Sheffield Daily Telegraph Newspaper of 19th November 1923 reported: On July I3th, Saville, who is 15 years of age, saw a boy struggling in the water of the River Don near the Neepeend Power Station, and immediately jumped in to his assistance. After two attempts he managed to get the unfortunate boy to the bank where he was helped out of the water by others. Artificial respiration was tried without success.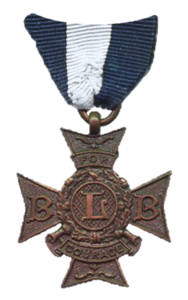 This account has been complied using records held in The Boys' Brigade Archive Collection, local and national newspaper archives and other sources. If there are any omissions or errors we sincerely apologise, and request that you come forward with this information, so that this can be corrected.
archive@boys-brigade.org.uk