The Boys Life Brigade Annual Report for 1926 (published as part of The Boys' Brigade annual report) recorded: The Cross for Courage has been awarded to Private Triejans, of the 1st Leipaja Company, Latvia. 
At great personal risk he rescued a Boy from drowning in the Baltic Sea. In the course of the rescue it was necessary for him to break away three times from the clutches of the drowning lad, thereby demonstrating the value of the release drill taught by the B.L.B.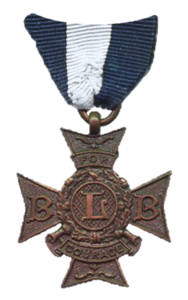 This account has been complied using records held in The Boys' Brigade Archive Collection. If there are any omissions or errors we sincerely apologise, and request that you come forward with this information, so that this can be corrected.
archive@boys-brigade.org.uk