SIR WILLIAM ALEXANDER SMITH 1854-1914
It was the evening of Thursday 4th October 1883, outside the door were a group of lads from the Sunday School of the North Woodside Mission Hall in Glasgow. Inside was a Scottish businessman and Volunteer soldier with   two friends – it was the beginning of great things.
The man was William Alexander Smith, who had been born on the 27th October 1854 at Pennyland, House Thurso, Caithness, in the very north of Scotland. He came from a military family, his grandfather William, having fought with the 78th (Highlanders) Regiment of Foot in the Napoleonic Wars of the early 1800's. His parents were David Smith 1824-1868, and Henrietta Fraser. David Smith had also been an active soldier, serving with the Dragoon Guards in southern Africa and rising to the rank of Major with the Caithness Volunteers when he left the army. David and Henrietta were married in 1852, with a daughter Catherine Jessie arriving in 1853, William Alexander in 1854, Donald George in 1856 and David Miller in 1860, and Henrietta Helen in 1864, who unfortunately died in 1867 aged 3 years.
Very little is known about William's formative years, his parents attended the local village church regularly and were good God-fearing people, who brought up their children with Family Prayers and Bible Study. He would have attended the local school and learned the basic subjects of reading, writing, arithmetic etc. as well as the usual active activities of young lads, also with his powers of leadership becoming manifest quite early in his life. Leaving school at around the age of fourteen and during his last term he apparently gained no less than seven prizes When William was only thirteen years old. his father, David, died while on a business trip to China, sadly less than a year after sister Henrietta died, a very difficult time for the family.
So, William, after he left school moved to Glasgow and joined his uncle, Alexander Fraser (his mother's brother) who was a shawl merchant. Beyond learning the business, he continued with his studies and joined the Free College Church under the ministry of the Rev George Reith, the father of Lord Reith of BBC fame. He also joined Y.M.C.A and with his family's Military background in 1874 he enlisted in 1st Lanark Rifle Volunteers, a distinguished regiment, which later became the 5th Cameronians (Scottish Rifles) and became one of the first Volunteer Regiments to be go into action in World War I. Here he rose through the Ranks and on retirement became an Honorary Colonel.
Leaving his uncle's employ, he and his brother Donald launched out in business of their own, and worked as Smith, Smith and Co. By this time his mother and sister had also moved to Glasgow, and they shared a home together until his marriage to Amelia Pearson Sutherland in 1884.
Then came the famous evening of the 4th October 1883 when The Boys' Brigade began, Very soon the idea took hold and other Companies, both in the UK and overseas began to be formed, So in 1888 William Smith gave up his business career and became the Brigade Secretary, at a salary of £350 per annum, a post he held until his death.
After his marriage in 1884 two sons were born, George Stanley Smith, 1889-1974 (later to also become Brigade Secretary), and Douglas Pearson Smith 1891-1965. Sadly Amelia, his wife died in 1898. It was not until 1906 he married again to Hannah Rankin Campbell, but sadly she died in 1907. Much support was given by these two ladies to William and his work with BB Boys, they surely must have been very much missed.
In 1908 the BB celebrated its 25th Anniversary, and the following year during the Company Camp at Tighnabruiach, the Captain of the 1s1 Glasgow Company, had to make a quick visit to London to be knighted by King Edward VII in recognition of all his splendid work for Boys. Sir William Alexander Smith very quickly returned to the Boys at camp., where he was given a very enthusiastic welcome.
In the course of William's work, in addition to probably hundreds of hand written letters he travelled many miles on behalf of the BB, up and down the whole of the UK, and Ireland visiting Companies and Battalions, advising and helping Officers and meeting Boys, he also crossed the Atlantic twice, to Canada in 1895 and the USA in 1907. Much support for his work was given by friends from both the business world and from Volunteer Officers., and indeed even to Royal support, with the Duke of York, later King George V becoming the BB' s first Royal Patron.
In May 1914 Sir William was in London to attend the London District Display at the Royal Albert Hall and for a meeting of the Brigade Executive but suddenly collapsed at the meeting and died in St Bartholomew's Hospital on the 10th. His death was much mourned, and a packed service was held in St Paul' s Cathedral before a funeral service back in his home Church in Glasgow.  After the service two Sergeants from the 11st Glasgow slow marched all the way to the cemetery. After the committal all the Boys of the Company walked past in single file and each Boy dropped a white flower into the open grave.  Very soon many of these Boys were wearing a very different uniform as army service called with the outbreak of World War I.
The work begun by William Alexander Smith still continues, with hundreds of thousands of Boys throughout the world who have benefited from his leadership when he opened a path for many others to follow, men and women have since 1883 followed in his footsteps and given much time and effort leading Boys towards a true Christian Manliness – long may his work continue.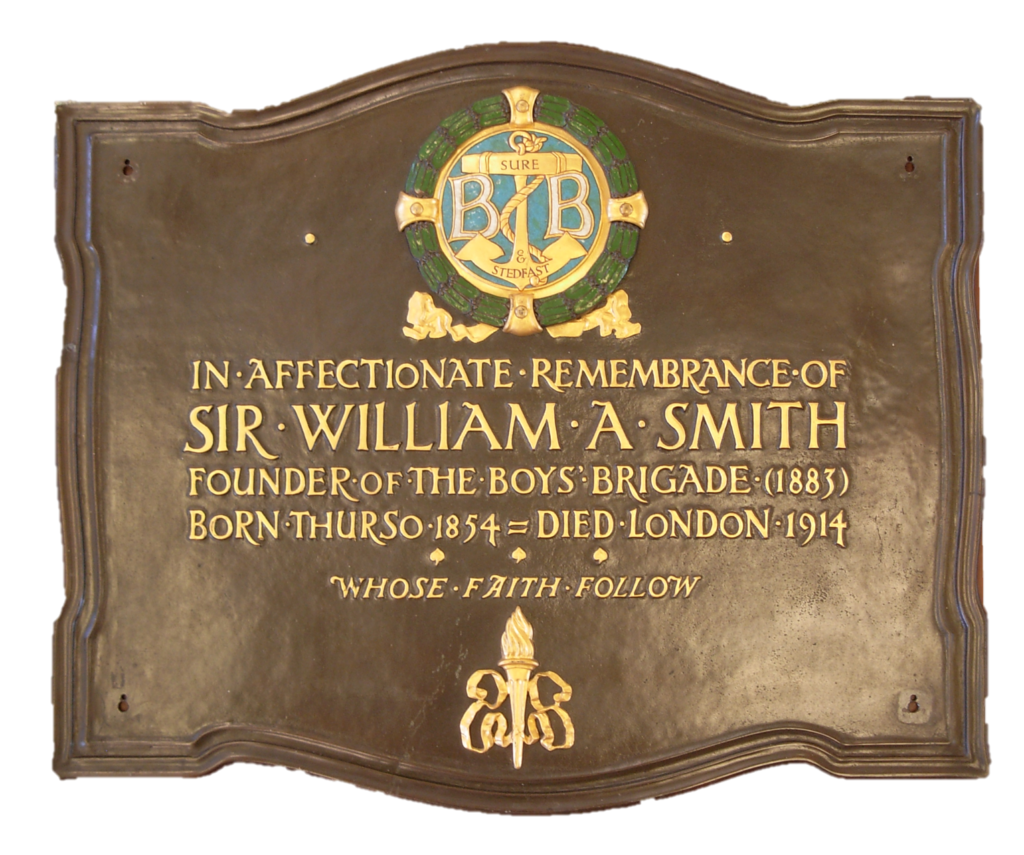 Arthur Reid interview with Muriel Gibbs and Brian Fraser 1977.04.18