In August 1954 a special Founder's Camp was held for 2,000 boys in400 tents parked on Eton's famous playing fields – the first ever Brigade International Camp. Heavy rain and mud failed to dampen the spirits of those present, but, as Eric Chapman (District Organizer and later Field Officer for the West of England District) remembers, it was often necessary to move the mess marquees because of 'the sheer odour of the stagnant mud and grass'. Boys came from overseas to represent the B.B. in Malaya, Africa, Canada, America, Holland, Denmark, Singapore and New Zealand: in the words of the B.B. song, 'a mighty band of brothers spreading out across the world'. All those present, from Commandant Sir Donald Finnemore to the youngest boy, had their own selective memories of the Camp which they looked back upon with gratitude in later years. Highlights of the Camp included the visitor's day held on Saturday to inspect the biggest B.B. camp ever, marred by a parade held in the pouring rain; Sunday camp church parades and services in formal uniform held in the two Eton College Chapels; the visit and inspection by the Brigade President on the Tuesday; the great parade to London by special trains for the service at Westminster Hall on the Wednesday; excursions to such places as Heathrow, Windsor Castle, and by river steamer to Marlow-on-Thames; and the climax of the Friday night torchlight parade and camp fire held in Windsor.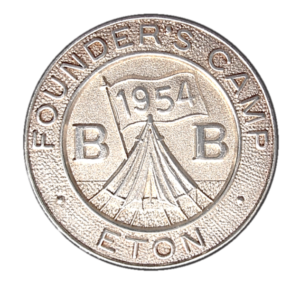 This virtual exhibition is brought to you by The Boys' Brigade Archive Trust. Our team of volunteers collect, publish, and archive memories from The Boys' Brigade across the globe.
You too can support our work by donating to The Boys' Brigade Archive Trust. To do so, please use our Just Giving link below.
Let's bring more 'BB' stories to life!