For over 130 years camping has been enjoyed by members of The Boys' Brigade.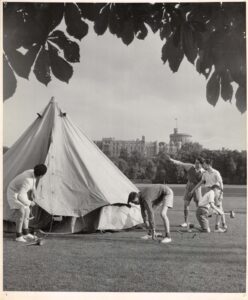 From the earliest camps by Companies in Victorian Glasgow, to large-scale international events, this pursuit has often been the pinnacle of activities in the 'BB' Calendar and looked forward to by generations of members and Officers.
As a pursuit so fondly remembered by members past and present, we are keen to document the experiences enjoyed by members of The Boys' Brigade from all generations. Whether you attended a Junior weekend camp, or a week-long Battalion expedition, we want to hear from YOU.
If you have photographs, camp newsletters, Company or Battalion handbooks, film footage, or simply memories from camps of years gone by and we will share the best of these on our Virtual Museum.
You can share with us via email (archive@boys-brigade.org.uk,) Twitter, or on Facebook.
What can you share to bring the history of camping in The Boys' Brigade to life?
Video - Birmingham Company Camp 1935