BB Gazette Vol.43 No.3 – The Cross for Heroism has also been awarded to Private Leonard Holyoak, aged 15, of the 11th West Kent (Orpington) Company, for saving his sister from electrocution on a live rail at Town Court Railway Bridge, Crofton, on the 5th of August.
A crowd of boys and girls were playing near the railway, when Len's little sister Grace, aged 8, noticed a ball lying on the railway track. In attempting to get the ball she stumbled on the live 6oo-volt electric rail. Hearing her screams he rushed on to the Line, and at great danger to his own life succeeded in dragging his sister clear of the rail. The little girl was badly burned, but she is now getting better. But for her brother's gallantry she would certainly have lost her life, and the Boy was fortunate not to be electrocuted too.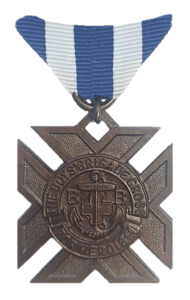 This account has been complied using records held in The Boys' Brigade Archive Collection, local and national newspaper archives and other sources. If there are any omissions or errors we sincerely apologise, and request that you come forward with this information, so that this can be corrected.
archive@boys-brigade.org.uk