BB Gazette Vol.19 No.6 – The Brigade Executive have awarded the Cross for Heroism to L.-Corpl. John May, aged 17, 1st Southwold Company, for saving a Boy from drowning in Southwold Harbour, on the night of 28th December, 1910.
The Halesworth Times and Southwold General Advertiser, 3rd January 1911. – Whilst the lifeboat was proceeding out of harbour, a boy named Stedman, in running along the quay towards the North Pier, slipped and fell into the water. Although many people were about, very few witnessed the occurrence, and it remained for a lad named John May to realise what had happened and he plunged into the water to the boy's rescue. The night was very dark, and May had to swim towards the spot where the boy fell in. He succeeded in catching hold of the lads coat as he was about to sink for the third time. Supporting Stedman, he brought him safely to the steps in the wall. May's heroic act was all the more highly commendable on account of the darkness of the night and the low temperature of the water.
Norfolk News, 11th March 1911 – At the monthly meeting of the Southwold Town Council on Friday night the Mayor (Alderman E.A. Holmes) presented to John May a silver watch, bearing suitable inscriptions, with a cheque for £5 which the trustees of the Carnegie Hero Fund had awarded him in recognition of his bravery and presence of mind in effecting the rescue from drowning of J Stedman, a boy…  who fell into the sea whilst watching a lifeboat launch from Southwold North Pier on the night of December 28th. For this May has already received the Royal Humane Society's medal and the Boys' Brigade cross of honour.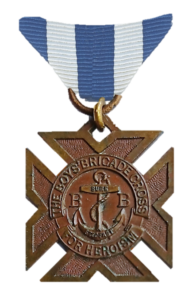 This account has been complied using records held in The Boys' Brigade Archive Collection, local and national newspaper archives and other sources. If there are any omissions or errors we sincerely apologise, and request that you come forward with this information, so that this can be corrected.
archive@boys-brigade.org.uk