BB Gazette Vol.44 No.1 – The Cross for Heroism has also been awarded to Private Robert Rudge, aged 12, of the 3rd Wigan Company, for saving the life of a Boy from drowning in a deep pond at Ince on the 22nd of June.
Rudge was lying on a grassy bank near the pond when he noticed that another Boy bathing in the pond had got into difficulties and had sunk below the surface having been seized with cramp in both legs he was quite helpless. Rudge swam out to where the Boy had disappeared and managed to get hold of him. The drowning Boy struggled violently, biting his rescuer's arm, but Rudge did not release his hold, and he succeeded ultimately in bringing him safely out of the water.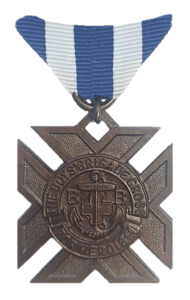 This account has been complied using records held in The Boys' Brigade Archive Collection, local and national newspaper archives and other sources. If there are any omissions or errors we sincerely apologise, and request that you come forward with this information, so that this can be corrected.
archive@boys-brigade.org.uk