Australian BB Gazette Vol.13 No.5 – The BB Cross for Heroism has been awarded to Pte. David Baldwin, of the 25th New South Wales Company, in Australia.
David's younger sister had been playing in the garden shed, in which was a 44 gallon drum of petrol. David then II years of age, was watering the side lawn, when he heard an explosion, and running to the back, saw the petrol drum blazing and his sister lying partially under it. He pushed the drum away and dragged his sister clear of the flames. In doing so, he was severely burned. His sister was killed in the explosion, and at the subsequent inquest, it was said of David, "he acted as bravely as the highest order" in trying to save his sister's life.
This was one of three Awards for Gallantry made by the Australian Executive in 1974, the other two receiving the Diploma for Gallant conduct.
This award has been missed from lists of recipients recently published, possibly because it was not mentioned in the UK published BB Gazette, which was the source material for these lists.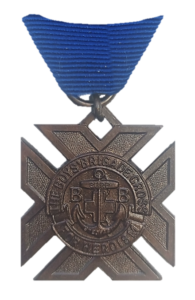 This account has been complied using records held in The Boys' Brigade Archive Collection. If there are any omissions or errors we sincerely apologise, and request that you come forward with this information, so that this can be corrected.
archive@boys-brigade.org.uk