John Bayliss – 1st Aberbargoed Company
Citation reads: For saving the life of his grandmother, Mrs Olwyn Earner, from a fire at her home in the early hours of 8 February 1987.
John, who lives with his grandmother, was woken by his friend, Kerry Vaughan, who was staying at the bungalow. As a result of the fire Kerry was injured and John took him to a neighbour's house and asked them to call the Fire Brigade and Ambulance services. He then returned to the bungalow to rescue his grandmother. She was now unconscious and overcome by the smoke, and after managing to get her out of the building John realised she had stopped breathing.
He immediately gave her the kiss of life until the Fire Brigade arrived, enabling her to have oxygen. She was taken to hospital with 50% burns. John Bayliss' action in returning to a burning building and rescuing his grandmother and rendering vital first aid undoubtedly deserves highest praise and brings credit not only to himself and his Company but the whole Brigade.
The certificate and cross were presented by the Brigade President Lord Thurso at the Church Parade in Swansea during the Brigade Council weekend 1987.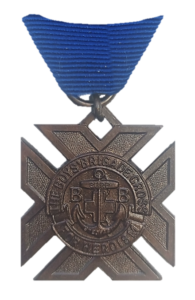 This account has been complied using records held in The Boys' Brigade Archive Collection, local and national newspaper archives and other sources. If there are any omissions or errors we sincerely apologise, and request that you come forward with this information, so that this can be corrected.
archive@boys-brigade.org.uk