BB Gazette Vol.49 No.1  – The Boys' Brigade Cross for Heroism has been awarded to Private Donald Evans and Private Donald Blaney, both of the 5th London (Ontario) Company, for their rescue of a man from drowning in the Thames River, Ontario, on December 29th, 1939.
The Boys, who were both only twelve years of age at the time, were walking beside the partly frozen river when they observed a man walking across the snow and then on to the ice. He seemed to be acting rather strangely, and the Boys were amazed to see him proceed out towards the middle of the river, where he fell in through the thin ice. The Boys rushed across the ice and, with difficulty, succeeded in grasping the man and getting him on to firm ice again. The man was completely exhausted, but they got him to the shore, where they lit a fire, and when he rallied they took him to a farmhouse near by, and hospital orderlies were sent for.
It transpired that the man was a shell shock casualty of the last war who had escaped from hospital and for whom search was being made. A passing hunter was a witness of the rescue. The Boys' report concludes : "After telephoning to the hospital we left the farmhouse. The lady gave us both some cookies!"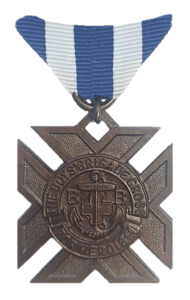 This account has been complied using records held in The Boys' Brigade Archive Collection, local and national newspaper archives and other sources. If there are any omissions or errors we sincerely apologise, and request that you come forward with this information, so that this can be corrected.
archive@boys-brigade.org.uk