BB Gazette Vol.39 No.3 – The Boys' Brigade Cross for Heroism has been awarded to Private George Carus Bradshaw, aged 15, 2nd Nottingham Company, for rescuing a girl of 18 from drowning in the River Trent on the 4th July, 1930. George was walking along the side of the river when he noticed the girl deliberately throw herself into the water, and, though small for his years, George at once entered the water fully clothed and swimming out to her attempted to rescue her. After a violent struggle he succeeded in bringing her to the bank and held on to her until assistance was forthcoming to help her ashore.
Nottingham Evening Post Saturday 5th July 1930 – WOMAN IN TRENT – PLUCKY BOY WHO WENT TO HER AID – MAN RESCUES BOTH – Considerable heroism was shown last night in rescuing a woman from the Trent. First a boy jumped in to save her, and then, seeing them both in danger, a man dived in and brought them safely to the bank. It was about a quarter to eight when the few people who happened to be near the war memorial were startled to see a young woman run down the embankment steps and, entering the water, begin to propel herself towards the middle of the stream. Except for her hat she was fully clothed. She had only got a few yards when a lad of 15 pulled off his coat and vest and, springing into the water, struck out towards her. The stream is not very high just now, but the boy, possibly because of his clothing, was soon in difficulties, and these were intensified when the woman gripped him. Luckily their plight was observed by Mr Geo Wilson, weighing machine fitter, of 8, Bathley Street.
Mr Wilson, who is an excellent swimmer, flung off his coat and cap and, diving into the water, reached the pair after two or three lusty strokes. Skilfully avoiding the woman's grip, he caught hold of her and swam with her to the bank, the boy, who was now exhausted, being towed along behind the woman. None of the three was much the worse for their immersion. The woman, whose name is Ivy Glover, aged 18, of Hyde-terrace, Lowdham-street, Nottingham, was taken by the police to the General Hospital. She was in a hysterical condition. The plucky boy is George Bradshaw, of 49, Davis-street, Carlton-road, Nottingham.
A "Post" reporter found Mr Wilson at home an hour afterwards, calmly eating his supper while his saturated clothes were being dried. Mr Wilson modestly disclaimed any credit for his work, but paid a warm tribute to young George who, he said, showed splendid coolness and courage for taking on a job for which he was obviously not fully qualified.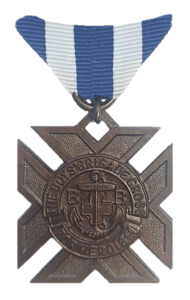 This account has been complied using records held in The Boys' Brigade Archive Collection, local and national newspaper archives and other sources. If there are any omissions or errors we sincerely apologise, and request that you come forward with this information, so that this can be corrected.
archive@boys-brigade.org.uk