BB Gazette Vol.16 No.3 -The Brigade Executive have awarded the Cross for Heroism to Sergeant William D. Burgess (17), 5th Birmingham Company, for saving a Boy from drowning in the Birmingham and Warwick Canal, on 11th July, 1907. Sergeant Burgess has also been awarded the Certificate of the Royal Humane Society for this act.
The Cross was presented to Sergeant Burgess on Saturday, 19th October, in the presence of the Birmingham Battalion. This is the first time such an award has come to Birmingham, and great enthusiasm was evinced at the presentation.
Birmingham Gazette and Express 27th August 1907 – CONSPICUOUS BRAVERY – BIRMINGHAM HERO PRESENTED WITH  ROYAL HUMANE SOCIETY CERTIFICATE – … Similar bravery was shown by William David Burgess (18), 437, Garrison-lane, brass dresser, in rescuing Leonard Richards, 12, back of 104, Arthur-street, from the canal.
From Royal Humane Society Committee Meeting Record – Register entry number 35,389.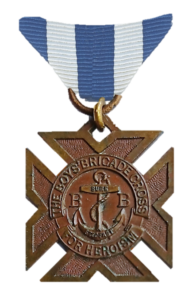 This account has been complied using records held in The Boys' Brigade Archive Collection, local and national newspaper archives and other sources. If there are any omissions or errors we sincerely apologise, and request that you come forward with this information, so that this can be corrected.
archive@boys-brigade.org.uk