BB Gazette Vol.17 No.4 – The Brigade Executive has awarded the Cross for Heroism to Sergeant William Henry Cheshire (17), 1st Hastings Company, for saving a Boy from drowning at East Parade, Hastings, on 24th June, 1908.
Hastings and St Leonards Observer 8th August 1908 – Sergeant W. H. Cheshire of the St. Mary-in-the-Castle Company of the Boys' Brigade has gained a Royal humane society certificate and a prize of 10s. for his courage and humanity in saving the life of Ernest Withers, who was in imminent danger of drowning at East Parade on the 24th of June.
Hastings and St Leonards Observer 30th January 1909 – The annual local meeting in connection with the Royal National Lifeboat Institute and the Royal Humane Society was held yesterday (Friday) in the Magistrates' Room at the Town Hall. … At a quarterly meeting of the Committee held in July Mr Alfred Moon, bowman of the "Charles Arkcoll" life-boat, applied for a reward for William Henry Cheshire … of 9, George-street, Hastings, a shop assistant, aged seventeen years, who risked his life to save Ernest Withers, of 13, West-sttreet, Hastings, aged nine years, a schoolboy, who was in imminent peril of drowning, on the 24th of June at 7.45 pm, he having fallen into the sea from a stone groyne near the Lifeboat House at East-parade, the depth of water being about ten feet.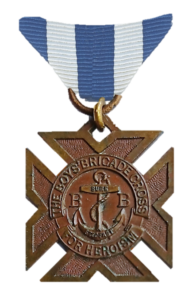 This account has been complied using records held in The Boys' Brigade Archive Collection, local and national newspaper archives and other sources. If there are any omissions or errors we sincerely apologise, and request that you come forward with this information, so that this can be corrected.
archive@boys-brigade.org.uk