BB Gazette Vol.39 No.8 – The Boys' Brigade Cross for Heroism has been awarded to Private Charles Clark, aged 15, of the 7th London Company, for rescuing a girl from drowning in the Grand Union Canal, Harlesden, on 30th January.
In this case a youth named Watson was practising a dance step with a girl on the brink of the canal, when the girl over balanced and fell in. Watson dived in, and, after repeated efforts to save the girl, sank and was drowned. Charles was walking near by with two other Boys when he heard cries for help and, running to the towing path, saw the girl in the water.
It was a pitch dark winter's night and the canal at this point is in a filthy condition, owing to the oil from the barges and the refuse from the Dust Wharf close by, but Charles stripped and dived into the deep water. He succeeded in reaching the girl, but had a severe struggle with her until she became unconscious. Then, swimming with her against the current, he eventually managed to bring her to the bank, which was too high for him to climb. He succeeded, however, in supporting her until a constable came on the scene and with Charles's help lifted the girl out, after which Charles himself was helped out.
The girl was removed to hospital, and Charles was taken into a neighbouring house in an exhausted condition. At the Inquest on the youth Watson, Charles, who attended in B.B. uniform, was very highly commended for his heroic conduct.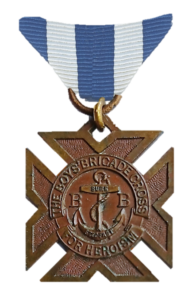 This account has been complied using records held in The Boys' Brigade Archive Collection, local and national newspaper archives and other sources. If there are any omissions or errors we sincerely apologise, and request that you come forward with this information, so that this can be corrected.
archive@boys-brigade.org.uk