BB Gazette Vol.15 No.2 – At the recent Meeting of Brigade Executive at Nottingham a number of Applications for the Brigade Cross for Heroism were laid before the Executive, and after due consideration the Cross was awarded… to Private George E. Clarke (aged 13), 1st Portsmouth Company, for saving a boy from drowning in Portsea Harbour, on 14th July, 1906.
Cheltenham Chronicle 21st July 1906 – BOY HEROES – George Clark, thirteen years old, of Portsmouth, was the hero of a plucky rescue from drowning on Monday. A child of six, named William Welch, was playing on the steps of Hard, Portsea, when he fell from the landing into six feet of water. The occurrence was witnessed by several men who, it is alleged, made no effort to save the child, and he must have been drowned, but for the promptness of young George, who was attracted to the scene by cries for help from the men spectators. George is small for his years. Without even taking off his coat, he dived in to the rescue of the drowning child, and with difficulty brought him to shore, but not a moment too soon, for William was quite unconscious, and artificial respiration had to be resorted to before he recovered. When a constable took charge of the child, George was standing by in his wet clothes, and had to be ordered home to change his garments, before he would leave.
Portsmouth Evening News 29th October 1906 – BOYS' BRIGADE – Tomorrow evening at 7.30 a meeting will be held in Albion-street School, Portsea, to present Private George Clarke, of the 1st Portsmouth Company of the Boys' Brigade, with a Boys' Brigade Cross for Heroism in saving a boy from drowning off the Hard on July 14th. Mrs. Proctor has kindly consented to make the presentation. The Rev. David Barron will preside, supported by the Rev. C. E. Crowley (Vicar of St. George's), Mr Hill, Headmaster of the Beneficial School, Mr Jabez Warn, and others. It is expected that the Royal Sailors' Rest Naval Brigade and the 2nd Portsmouth Company Boys' Brigade will take part. As George is a scholar in the Beneficial School, the senior classes will be present in honour to their schoolmate.
Royal Humane Society Meeting Record – Register Number 34789.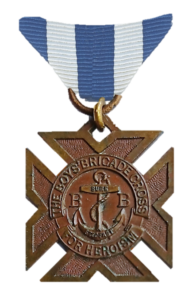 This account has been complied using records held in The Boys' Brigade Archive Collection, local and national newspaper archives and other sources. If there are any omissions or errors we sincerely apologise, and request that you come forward with this information, so that this can be corrected.
archive@boys-brigade.org.uk