BB Gazette Vol.18 No.5 – The Brigade Executive have awarded the Cross for Heroism to Private Campbell Clifford, aged 14, 9th Cardiff Company, for saving three Boys from drowning in East Canal, Cardiff, on 17th September, 1909.
This was an exceptionally plucky case of life-saving. The three Boys had fallen off a log of timber into deep water. They were quite unable to swim, and would almost certainly have been drowned but for Campbell Clifford's prompt and resourceful action.
Wales Weekly Mai, 19th February 1910 – The scene inside the City Police Parade Ground on Wednesday night was an inspiring one. About 560 lads of The Boys' Brigade were present to do honour to Private Clifford, of the 9th Cardiff Company…, in recognition of his brave action in saving the lives of three boys who fell into the canal at Cardiff in September last.
The battalion mustered in Cathays Park, and, under the command of Lieutenant and Adjutant Ashton, marched on to the parade ground in companies. The Lord Mayor had arranged to be present, Councillor E Nicholl, who takes a great interest in the brigade movement, was present, supported by Mr J.M. Heywood, the battalion president…. In presenting the medal, Councillor Nicholl said he was proud to be associated with the Boys' Brigade. Presence of mind was a thing lads should learn to cultivate, for what had been the means of Private Clifford saving the lives of three boys. Councillor Nicholl then pinned on the medal, amid ringing cheers…. After the ceremony young Clifford was mounted on a pony, and, heading his company, rode through the town, to the accompaniment of about a dozen bands.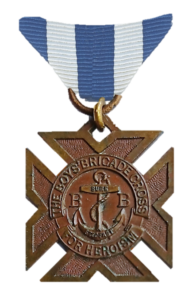 This account has been complied using records held in The Boys' Brigade Archive Collection, local and national newspaper archives and other sources. If there are any omissions or errors we sincerely apologise, and request that you come forward with this information, so that this can be corrected.
archive@boys-brigade.org.uk