BB Gazette Vol.44 No.1  – The Boys' Brigade Cross for Heroism has been awarded to Lance-Corporal James Collins, aged 14, of the 41st Dundee Company, for saving the life of a little Boy at the Old Harbour, Broughty Ferry, on the 3rd of April. James was playing in a recreation park when a child ran up to tell him that a little Boy had fallen into the harbour.  Collins ran across, took off his jacket and dived in, although he knew that the water was deep, and the steep walls afforded no way of getting out. The  youngster was already half drowned, but James seized hold of him and kept him up until someone fetched a long boat-hook, by which the drowning Boy was lifted out and then by the same method James managed to clamber out himself. The man with the boathook could not swim, but had he not come on the scene, both Boys would have lost their lives.
Dundee Evening Telegraph 25th June 1935 – HIGHEST BB HONOUR FOR BROUGHTY LAD – HARBOUR RESCUE – Lance-Corporal James Collins, of the 41st (Broughty Ferry Company) of the Boys' Brigade, is to receive the highest award in the Brigade – the Cross for Heroism, given only in exceptional cases. James rescued a boy who had fallen into the river at Broughty Ferry. The presentation is to be made by President R. R. Smith of the Dundee Boys' Brigade, and takes place at St Aidan's Church Hall, St Vincent Street, Broughty Ferry, on Friday first.
The rescue took place at the Castle Harbour on the afternoon of Wednesday, 3rd April, James' half holiday. It was a very cold day and he dived in with all his clothes on. The boy he rescued is about four years old and had slipped into the water while playing. James managed to keep the boy afloat until they were pulled out by a boat hook. James has also received the Parchment of the Royal Humane Society and a cheque for £5, in addition to an inscribed silver watch from the Carnegie Trustees. James has proved to be a very good member of the 1st Company. In his first session he won the medal for the best-drilled recruit, and this past session he won the medal for the best-drilled boy in the Company. He has held the Individual Company Medal for gymnastics for three consecutive years.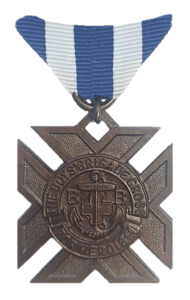 This account has been complied using records held in The Boys' Brigade Archive Collection, local and national newspaper archives and other sources. If there are any omissions or errors we sincerely apologise, and request that you come forward with this information, so that this can be corrected.
archive@boys-brigade.org.uk