BB Gazette Vol.18 No.2 – The Brigade Executive have awarded the Cross for Heroism to Private Robert Dalrymple, aged 14, 47th Glasgow Company, for saving a Boy from drowning at Deil's Craig Loch, Strathblane, 9th August, 1909.
Private Robert Dalrymple of Dennistoun, Glasgow, was 14 years old when he saved a boy from drowning in Deil's Craig Loch, Strathblane, 9.8.1909. For his bravery he was presented with the Scout Association Gallantry Cross in silver, the Boy's Brigade Cross of Heroism and the Carnegie Hero Fund pocket watch. The watch, which bears a representation of the Carnegie Hero Fund Medal, is engraved on its inner dome: 'Presented by the Trustees of the Carnegie Hero Fund to Robert Dalrymple, Dennistoun, for Heroic Endeavour to Save Human Life 9th August 1909'. This is one of the earliest of Carnegie Hero Fund awards, since the Fund was only established in 1908 and made its first awards in 1909.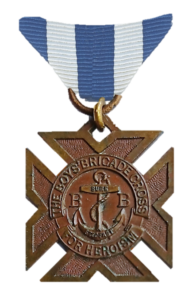 This account has been complied using records held in The Boys' Brigade Archive Collection, local and national newspaper archives and other sources. If there are any omissions or errors we sincerely apologise, and request that you come forward with this information, so that this can be corrected.
archive@boys-brigade.org.uk