BB Gazette Vol.23 No.10 – The Brigade Executive have awarded the Cross for Heroism to Private C. E. Davenport, 10th Oldham Company, for rescuing a Boy from drowning in Hollingworth Lake on 5th April, 1915.
Davenport Manchester Evening News, 28th April 1915 – The certificate of the Royal Humane Society has been awarded to Charles Ewart Davenport…. For an act of bravery at Hollingworth Lake, on Easter Monday. Davenport, who is only sixteen years of age, was at the lake when Jeremiah  Bagnall, aged eight years, fell into the lake, which at this point is seven or eight feet deep. Without divesting himself of his clothing, Davenport jumped into the water and rescued the lad in an unconscious condition.
The certificate was presented to Davenport at the Rochdale County Police Court today, and his bravery was warmly commended by the magistrates.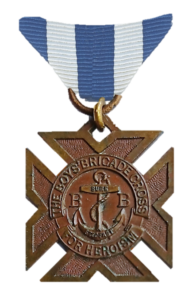 This account has been complied using records held in The Boys' Brigade Archive Collection, local and national newspaper archives and other sources. If there are any omissions or errors we sincerely apologise, and request that you come forward with this information, so that this can be corrected.
archive@boys-brigade.org.uk