BB Gazette Vol.53 No.1 – The Boys' Brigade Cross for Heroism has been awarded to Corporal Ronald Edwards, aged 15 of the 6th Romford Company, for his gallantry in attempting to save a Boy from drowning at Hall's Gravel Pits, Romford, on May 29th, 1944.
Edwards was walking beside the-pits, in which there are large stretches of deep water, used for fishing but reputed to be dangerous for bathing, when he was told that a Boy swimming there had disappeared. Although he had not seen the Boy, Edwards quickly undressed and dived repeatedly near the spot indicated until eventually he found him and brought him up to the surface. On reaching the bank he sent other Boys for an ambulance, while he promptly did everything he could by himself to revive the patient by artificial respiration.
By the time that the ambulance arrived, however, it was evident that the Boy was dead. Edwards was commended at the inquest for " most exemplary conduct deserving of the highest praise."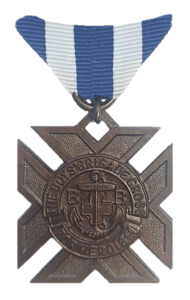 This account has been complied using records held in The Boys' Brigade Archive Collection, local and national newspaper archives and other sources. If there are any omissions or errors we sincerely apologise, and request that you come forward with this information, so that this can be corrected.
archive@boys-brigade.org.uk