BB Gazette Vol.37 No.2 – The Boys' Brigade Cross for Heroism has been awarded to Lance-Corporal James B. Elrick, 3rd Fraserburgh Company.
On the 18th August a small Boy had fallen into 12 feet of water from the quay, which was 10 feet above the water level, and he immediately sank. A number of steam drifters were moored by the bow at right angles to the quay, and a man in one of these boats who could not swim went over the bow on a rope to rescue the child, but was unsuccessful in reaching him, as the little Boy had sunk out of sight. Elrick jumped into the water, which was very dirty and thick, and then dived until he succeeded in finding 'the child, whom he brought to the surface and kept afloat until he was thrown a rope which he grasped, and holding the child in his arms, he was pulled on to the deck of the ship.
The Cross was presented to Lance-Corporal Elrick in the presence of the great audience of Boys, Visiting Officers, and general public at the Aberdeen Battalion Demonstration on Saturday, the 15th September, this being the first occasion on which such a presentation has been made during the Brigade Council Meetings.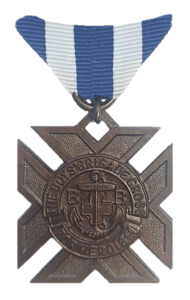 This account has been complied using records held in The Boys' Brigade Archive Collection, local and national newspaper archives and other sources. If there are any omissions or errors we sincerely apologise, and request that you come forward with this information, so that this can be corrected.
archive@boys-brigade.org.uk