BB Gazette Vol.55 No.4 – The cross for heroism has been awarded to Sergeant Stanley Radeby, aged 18, and Corporal Wilfred Fritz, aged 17, both of 11th Ebenezer (Randfontein) Company, for great bravery in saving a child from a burning house at Randfontein, Transvaal.
Two young children, alone in their home when fire broke out, were trapped in their bedroom. The elder just managed to escape in time, but the fire rapidly spreading, the younger four-year-old child was completely cut off, and undoubtedly would have lost its life but for the prompt action of Radeby and Fritz who hearing its screams, dashed into the blazing house to the rescue. By now the building was a mass of flames and smoke, but undeterred by the danger and thoughtless of themselves, these two brave … Boys fought their way through the flames, reached the child, and grimy and scorched, brought it to safety amidst the cheers of the crowd of onlookers.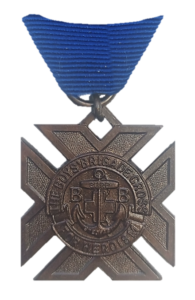 This account has been complied using records held in The Boys' Brigade Archive Collection, local and national newspaper archives and other sources. If there are any omissions or errors we sincerely apologise, and request that you come forward with this information, so that this can be corrected.
archive@boys-brigade.org.uk