BB Gazette Vol.48 No.9 – The Boys' Brigade Cross for Heroism has been awarded to Private Thomas Gosling, aged 13, of the 1st New Lanark Company, for saving a Boy from drowning in the River Clyde at New Lanark on 21st March, 1940.
With two other Boys Gosling was playing above a high cliff on the bank of the Clyde, when one of his companions dropped a knife over the cliff. Climbing down to recover it he slipped and fell into the river, which was in flood and flowing swiftly. In falling he struck his head on a rock and had lost consciousness before he reached the water. Gosling, seeing his friend lying helpless under the water, quickly climbed down the face of the cliff, which was 90 feet high, swam out some distance, reached the Boy and brought him safely to the bank. The cliff was a steep and dangerous place, owing to the loose rocks and the depth of the river below, and Gosling showed a fine disregard of the danger to his own life. But for his prompt action the other Boy would certainly have been drowned.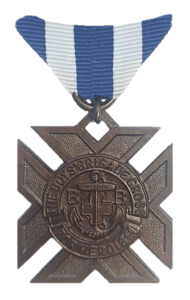 This account has been complied using records held in The Boys' Brigade Archive Collection. If there are any omissions or errors we sincerely apologise, and request that you come forward with this information, so that this can be corrected.
archive@boys-brigade.org.uk