BB Gazette Vol.75 No.1 – The Boys' Brigade Cross for Heroism has been awarded to Private John Hawley of the 118th New South Wales Company (Australia).
John was in camp with his Company, and while on the beach on 30th January noticed a 12 year old girl being swept out to sea by a strong rip tide. The beach, an isolated one and un-patrolled by life savers, was popular with surfboard riders. Hawley, with his Captain, swam out to the girl a distance of some 100 yards, but Hawley reached her first, supported her and then brought her back to the beach unaided.
Stedfast Mag No 157 – An Australian Boy has been awarded the BB Cross for Heroism.
It was while the Boys of the 118th New South Wales Company were surfing on the beach, during their Company camp, a 12-year old school girl got into difficulties in deep water. Fifteen-year-old Pte. John Hawley was nearest to the girl, though nearly 100 yards away, and he swam to her, followed by the Company Captain, about 10 yards behind.
When the Captain reached the scene, John was already towing the girl in, breast-stroking strongly, using the "tired swimmer" attitude. He continued for another 20 to 30 yards, when he found he could stand up, and together they pulled the girl to the beach. The scene of the incident was One Mile Beach, the surfing beach of Anna Bay.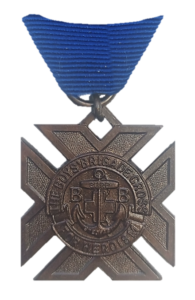 This account has been complied using records held in The Boys' Brigade Archive Collection, local and national newspaper archives and other sources. If there are any omissions or errors we sincerely apologise, and request that you come forward with this information, so that this can be corrected.
archive@boys-brigade.org.uk