BB Gazette Vol.15 No.4 – The Brigade Executive have awarded the Cross for Heroism to Private George Hebenton, aged 15, 9th Dundee Company, for saving a Boy from drowning in the River Tay, on 11th July, 1906.
Dundee Courier, 28th March 1907 – A most interesting ceremony was performed by the Lord Provost at a later stage. The BB cross for heroism was presented to Corporal Hebenton, of the 9th Dundee (M'Cheyne Memorial U.F.) Company, and when the gallant young corporal stepped forward to receive his award the audience gave him a rousing reception. The Lord Provost explained that on 11th July last Corporal Hebenton saved from drowning one of a number of boys who were caught by the rising tide on a sandbank near Tay Bridge. He swam off to the bank, and catching one of the boys on his back he succeeded, in spite of violent struggles, in bringing him safely on shore. For this brave act Hebenton had also received the parchment of the Royal Humane Society, and the BB Cross, which he has also secured, is the first to be presented to a member of the Dundee Battalion. Amid loud cheers the cross was pinned on the lad's breast by the Lord Provost.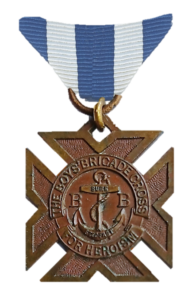 This account has been complied using records held in The Boys' Brigade Archive Collection, local and national newspaper archives and other sources. If there are any omissions or errors we sincerely apologise, and request that you come forward with this information, so that this can be corrected.
archive@boys-brigade.org.uk