BB Gazette Vol.35 No.3 – The Boys' Brigade Cross for Heroism has been awarded to Private Sinclair Henderson, age 16, 44th Edinburgh Company, for his conspicuous heroism in saving life at Coldingham, Berwickshire, on 29th July, 1926.
The Scotsman, 1st November 1926 – The annual Founders' Day church parade of the Edinburgh Battalion, the Boys' Brigade, was held yesterday, the service taking place in the Usher Hall. The body of the hall, the circle, and the gallery were filled by the boys, and the organ steps and platform were occupied by those officiating in the service and by the general public.
The usual order of the service was interrupted by an interesting ceremony, in the presentation to a member of the Brigade of the Boys' Brigade Cross for Heroism. The Boy concerned was Private Sinclair Henderson, of the 44th Edinburgh Company (Murrayfield Parish Church). The Rev J Rossie Brown, chaplain of the Company, before calling upon Lord Provost Sir Wm. L. Sleigh to present the cross and the Royal Humane Society's certificate on vellum, recounted the circumstances under which Private Sinclaire Henderson earned the award. Private Henderson, he said, saved a human life at the risk of his own life at Coldingham, in Berwickshire, on 29th July, while the Company were in camp, a swimmer got into difficulties about 200 yards from the shore, and shouted repeatedly for help. Private Henderson rushed into the sea with his clothes on, was recalled, and set out again with a life-line. Even with the life-line, it was at the risk of his life that he brought the swimmer – a well built man – to shore through rough water.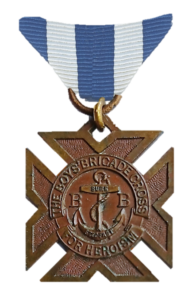 This account has been complied using records held in The Boys' Brigade Archive Collection, local and national newspaper archives and other sources. If there are any omissions or errors we sincerely apologise, and request that you come forward with this information, so that this can be corrected.
archive@boys-brigade.org.uk