BB Gazette – The Brigade Executive have awarded the Cross for Heroism to Private Sidney Henshall, 8th Nottingham Company, for rescuing a child from drowning in the river Trent, Beeston, on 12th June, 1915.
Beeston Gazette and Echo, 19th June 1915 – How a seven year old boy was saved from almost certain death at Beeston Weir on Saturday last by the cool courage of another boy is described by Mrs Ward. About 11 o'clock in the morning childish screams attracted attention to the river, and it was observed that a little boy who had been paddling on the 'beach' where the canal and Trent meet, had got out of his depth, and, caught by the stream, was being whirled round and round in the water like a cork.
Sidney Henshall, who is 14 years of age, without a moments hesitation, waded in, fully clothed, clutched the drowning child, and would himself have been carried away had not the lady who was with him caught his hand. The little boy had lost consciousness, but Ex-Sergeant Ward promptly set to work to restore respiration. After ten minutes his efforts were crowned with success.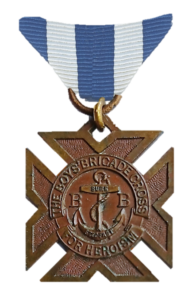 This account has been complied using records held in The Boys' Brigade Archive Collection, local and national newspaper archives and other sources. If there are any omissions or errors we sincerely apologise, and request that you come forward with this information, so that this can be corrected.
archive@boys-brigade.org.uk