BB Gazette Vol.52 No.2 – The Boys' Brigade cross for Heroism has been awarded to Private John Gregg Martin Hudson, aged thirteen, of the 1st North Seaton Company, for outstanding courage in risking his life to save a Boy from drowning in the River Wansbeck on July 28th, 1943.
A Boy of ten years, himself unable to swim, was paddling in the river when the current, which was flowing very strongly, swept him out of his depth. Hudson at the time was pre paring to bathe, when he realised that the Boy was in difficulties some twenty-five yards from the bank. Without hesitation, despite the fact that there was no one in the vicinity to whom he could look for aid, Hudson, who was not a strong swimmer and untrained in life-saving, plunged in, succeeded in reaching the struggling Boy, and by strenuous effort got him to safety.
That it was a solo effort added to the heroism of the act.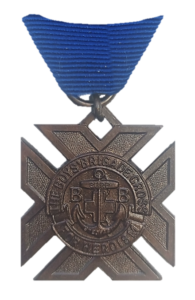 This account has been complied using records held in The Boys' Brigade Archive Collection, local and national newspaper archives and other sources. If there are any omissions or errors we sincerely apologise, and request that you come forward with this information, so that this can be corrected.
archive@boys-brigade.org.uk