BB Gazette Vol.50 No.1 – The Boys' Brigade Cross for Heroism has been awarded to Private Henry Huggon, aged 13, of the 3rd Carlisle Company, for his bravery in rescuing a child from drowning in the River Eden on August 1st, 1941, and taking part in the rescue of the child's mother.
A small Boy of three had fallen into the river, near the Memorial Bridge, Carlisle, and his mother, who could not swim, jumped in to rescue her child. Huggon, who had been swimming and was half dressed, at once dived in, swam to the child and brought him safely out. He then went in again to save the mother. He reached her and tried to bring her out too, but it was beyond his strength to do so. He managed, however, to keep her afloat until two men arrived on the scene and swam out to his assistance. The scene of the accident is at a dangerous bend where there are strong under-currents and the water is nearly 20 feet deep. Huggon's conduct was especially meritorious, as he is of slight build for a Boy of thirteen and attends a school for delicate children. His only knowledge of life-saving was gained by watching the B.B. life-saving class, which he had not yet joined.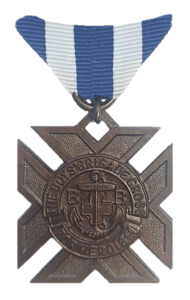 This account has been complied using records held in The Boys' Brigade Archive Collection, local and national newspaper archives and other sources. If there are any omissions or errors we sincerely apologise, and request that you come forward with this information, so that this can be corrected.
archive@boys-brigade.org.uk