BB Gazette Vol.42 No.4
 The Boys' Brigade Cross for Heroism has been awarded to Colour-Sergeant Thomas Hughes, aged 17, of the 17th Liverpool Company, for saving the life of a girl from drowning in the River Dee at Trevalyn, on the 6th August.
Two girls were bathing at a spot where the river becomes suddenly deep, and Hughes from the bank saw them struggling together and they both sank. On coming to the surface one of them managed to reach shallow water and scrambled ashore, but the other, who was exhausted by her efforts to save her friend, sank again.
Hughes dived in from the steep bank and succeeded in reaching the girl and bringing her to the surface and to the side. She was unconscious and only revived after artificial respiration.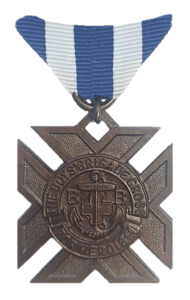 This account has been complied using records held in The Boys' Brigade Archive Collection. If there are any omissions or errors we sincerely apologise, and request that you come forward with this information, so that this can be corrected.
archive@boys-brigade.org.uk