BB Gazette Vol.115 No.2 – On Wednesday 18th October, whilst on holiday in Turkey, Philip )ones (17), his brother Chris (14), cousin Jonathan Davis (26) and friend Steven Inglefield (17), went walking to see the effects of torrential rain on the resort in which they were staying.
As they returned to their hotel, they discovered the main road now resembled a river. To get through the water, Jonathan decided to carry Chris on his back, with Phil and Steve a few paces behind. Without warning Jonathan and Chris disappeared under the water as the road underneath had collapsed under the torrent of water.
The pair did not resurface and without any regard for his own safety Philip jumped into the water and managed to get underneath both Jonathan and Chris and push them towards the surface of the water. Jonathan managed to scramble clear with the help of Steven, who then grabbed Chris and pulled him to safety. Phil however was still under water, clinging to a water drainage pipe. Even with an outstretched arm he could not be seen on the surface due to the depth and the force of the water. He let go and was carried through three sections of the pipe, bouncing off boulders and debris before being flung out further downstream, where he managed to scramble out. There is no doubt that Philp saved the lives of his brother and cousin.
On Sunday 11th February, the Brigade President, presented the Cross for Heroism to Philip for his actions. Mr John Young, MBE, Brigade Vice President presented the Diploma for Gallant Conduct to Steven Inglefield. All of the young men will have their actions recognised by the Humane Society later in the year.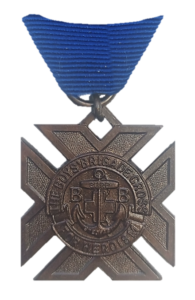 This account has been complied using records held in The Boys' Brigade Archive Collection. If there are any omissions or errors we sincerely apologise, and request that you come forward with this information, so that this can be corrected.
archive@boys-brigade.org.uk