BB Gazette Vol.36 No.3 – The Boys' Brigade Cross for Heroism has been awarded to Private William Jones, aged 13, 23rd Liverpool Company, for saving a Boy of 9 from drowning at Egremont Pier on the River Mersey, on the 1st August, 1927.
The little Boy had fallen in at a place where the strength of the tidal current is notorious, and although Jones had just been relieved of splints after a broken arm, he gallantly dived in and succeeded in saving the child's life. Jones has also been awarded the Gallantry Medallion of the Liverpool Schools.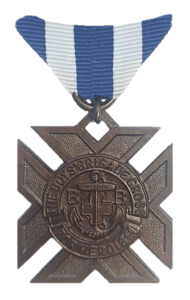 This account has been complied using records held in The Boys' Brigade Archive Collection, local and national newspaper archives and other sources. If there are any omissions or errors we sincerely apologise, and request that you come forward with this information, so that this can be corrected.
archive@boys-brigade.org.uk