BB Gazette Vol.23 No.4 – The Brigade Executive have awarded the Cross for Heroism to Private Arthur Sydney Langley, age 13, 4th Cambridge Company, for attempting to rescue Driver Hewson, R.F.A., from drowning in the river at Stourbridge Common, and for assisting in the rescue of Driver Garraghan on the same occasion, on Thursday, 27th August, 1914.
This appears to have been a particularly plucky act, as the man Hewson injured the first man who attempted to rescue him, and Private Langley himself was pulled under twice by the struggling man, but managed to free himself and got to the bank exhausted. In attempting to rescue Hewson, Driver Garraghan then got into difficulties, and seeing this. Private Langley, though already very fatigued, again entered the water and was instrumental in assisting in the rescue of Garraghan. At the inquest. Sergeant Berry of the R.F.A., in speaking of the incident, concluded by saying, " I have seen many rescues in my time, but this is the pluckiest I ever remember."
Cambridge Independent Press 11th December 1914 – The cross was presented to Pte. Langley by the Mayor of Cambridge (Mr W.L. Raynes) at a Battalion drill at the Corn Exchange yesterday evening, at which 209 Officers, N.C.Os, and Lads of the 1st, 4th, 5th, and 6th Cambridge Companies were present.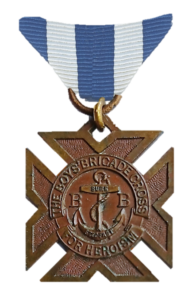 This account has been complied using records held in The Boys' Brigade Archive Collection, local and national newspaper archives and other sources. If there are any omissions or errors we sincerely apologise, and request that you come forward with this information, so that this can be corrected.
archive@boys-brigade.org.uk