BB Gazette Vol.62 No.2 – The Cross for Heroism has been awarded to Private Glen Lawson, aged 14, of the 1st Springs (South Africa) Company for saving a Boy of 8 from drowning at South Beach, Durban, Natal, on the 11th May 1953.
It was early morning and a stormy sea was breaking on the shore of South Beach. Outside the safe bathing area, with its squad of life savers on duty, and at a spot marked "dangerous," Glen Lawson and his young brother were paddling when his mother suddenly saw a child in the rough sea about 150 yards out….Lawson,… started swimming out to the helpless little Boy. He reached him and despite his struggles managed to hold on to him and, treading water, kept him afloat. But he couldn't bring him in. Mrs. Lawson saw that the Boys were being carried further out and that they would both be drowned…. After asking several onlookers in vain she at last found two young men who were willing to help. They both swam out and took over the drowning child from Lawson, each of them holding one arm of the youngster. Thus they brought him back to the beach….Glen Lawson, who had had no instructions in life saving, had to swim all the way back by himself in the rough sea; and after his struggle to keep the child afloat he was completely exhausted by the time he reached the shore.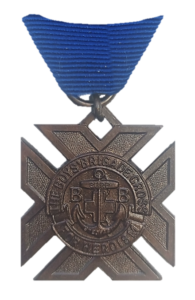 This account has been complied using records held in The Boys' Brigade Archive Collection, local and national newspaper archives and other sources. If there are any omissions or errors we sincerely apologise, and request that you come forward with this information, so that this can be corrected.
archive@boys-brigade.org.uk