BB Gazette Vol.70 No.2 – The Boys' Brigade Cross for Heroism has been awarded to 14 year old Private Gerald Lopes of the 1st St. Eustatius (Methodist Church) Company Netherlands Antilles.
In March, 1961, four Boys were floating on a tube in the sea at St. Eustatius when they were knocked off by heavy waves. The tube floated out of their reach and Gerald Lopes on the beach heard the cry for help. He rescued first one Boy and then returned for the other three. Two of them he managed to get back on the tube and then brought them ashore. By this time Gerald was quite exhausted but returned for the fourth member who unfortunately could not be found. At this spot on the beach the tide can be very strong and there are no life boats or life savers.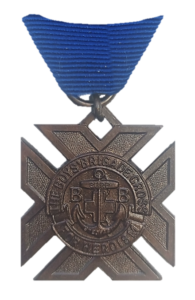 This account has been complied using records held in The Boys' Brigade Archive Collection, local and national newspaper archives and other sources. If there are any omissions or errors we sincerely apologise, and request that you come forward with this information, so that this can be corrected.
archive@boys-brigade.org.uk