BB Gazette Vol.31 No.4 – The Executive have awarded the Cross for Heroism to Private P. Love, 14th Northampton Company, for heroism in saving a Boy from drowning in the River Nene. With other Boys, Love was playing football nearby, when the cry went up that a Boy had fallen into the river. Love, in his football clothes, immediately plunged into the water and succeeded in bringing the Boy to safety. The current was running quickly at the time, and Love was only a moderate swimmer.
The Cross for Heroism was present by Viscount Hampden at a parade of the Northampton Battalion on the lawn of the St Andrews Hospital.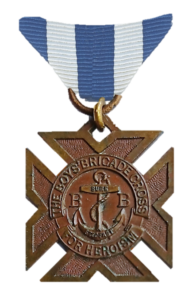 This account has been complied using records held in The Boys' Brigade Archive Collection, local and national newspaper archives and other sources. If there are any omissions or errors we sincerely apologise, and request that you come forward with this information, so that this can be corrected.
archive@boys-brigade.org.uk