BB Gazette Vol.63 No.6 – The Boys' Brigade Cross for Heroism has been awarded to Private Robert Maxwell, aged 14, of the 191st Glasgow Company.
Whilst playing with his friend, James Tallintyre, on the banks of the Monkland Canal, Glasgow, on 19th April, Maxwell saw that a Boy had fallen into the canal on the other side. Diving in, he swam 50 feet to reach the Boy (a non-swimmer) and not without great difficulty he was able to bring him to the bank where Tallintyre had waded in. Many drowning incidents have occurred at this spot in the Canal which was full of debris and weeds and 14 feet deep in the centre, and but for Maxwell's immediate action the Boy would undoubtedly have lost his life.
Lance-Corporal Tallintyre is commended for his part in the rescue.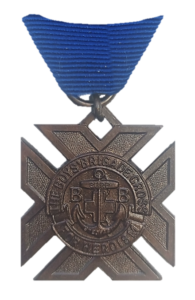 This account has been complied using records held in The Boys' Brigade Archive Collection. If there are any omissions or errors we sincerely apologise, and request that you come forward with this information, so that this can be corrected.
archive@boys-brigade.org.uk