BB Gazette Vol.37 No.3 – The Bovs' Brigade Cross for Heroism has been awarded to Private David Millar, aged 14, 38th Belfast Company, for saving a Boy of 12 from drowning in a lock on the River Lagan on the 26th August. A party of four Boys had been walking along the towpath when one of them tripped and fell in where the water was 14 feet deep and the perpendicular sides of the lock rose six feet above the water level. Millar at once plunged into the water although he knew nothing about life-saving. He managed to seize hold of the other Boy, but it was impossible to climb out. He succeeded, however, in keeping the Boy afloat until some men were attracted to the scene, and ultimately both Boys were brought safely out.
Belfast Telegraph, 2nd February 1929. – Congratulations to private David Millar of the 38th Belfast Company (Donegall Road Methodist Church) on receiving yesterday, at the hands of the Lord Mayor, the Royal Humane Society's testimonial in recognition of his rescuing a boy from a Lagan lock in August last. Private Millar well deserves this as also the Brigade Cross for Heroism presented to him a short time ago,
Northern Whig, 1st March 1929. – The Carnegie Hero Fund Trustees yesterday awarded …. an inscribed silver watch to David Millar, apprentice photographer…. Who rescued a schoolboy from drowning.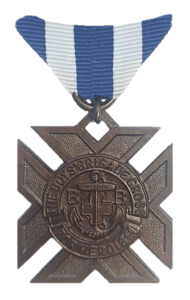 This account has been complied using records held in The Boys' Brigade Archive Collection, local and national newspaper archives and other sources. If there are any omissions or errors we sincerely apologise, and request that you come forward with this information, so that this can be corrected.
archive@boys-brigade.org.uk