BB Gazette Vol.67 No.1 – The Boys' Brigade Cross for heroism has been awarded to Sergeant Kenneth Alan Mitchell, age 17, of the 33rd Sydney (N.S.W.) Company. Mitchell was a member of a Church picnic party to Prince Alfred Park, near Sutherland, in February last.
Whilst swimming in the river, a young man, aged 21, not a member of the party got into difficulties about 50 yards from the bank. His cries for help went unheeded until Mitchell, who was standing on the bank, realised the seriousness of the situation and immediately dived in and swam to the rescue. Mitchell reached him safely, but by this time the young man was so panic-stricken that he fought with his rescuer and it was, therefore, only with considerable difficulty that Mitchell, unaided, was able to bring him near to the bank. There is no doubt that the young man would have drowned but for Mitchell's prompt and courageous action.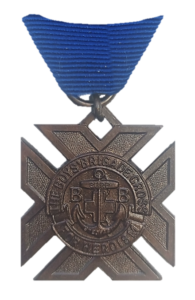 This account has been complied using records held in The Boys' Brigade Archive Collection. If there are any omissions or errors we sincerely apologise, and request that you come forward with this information, so that this can be corrected.
archive@boys-brigade.org.uk