BB Gazette Vol.66 No.1 
Private James Oliver, age 13, of the 1st Morpeth Company.
While with a Sunday School outing at Bamburgh-on-Sea, Northumberland, on 15th  June, 1957, a schoolboy was isolated by the incoming tide on a sandbank. Two male Sunday School teachers attempted to wade out to reach him, but could not do so owing to the depth of water, and the fact that they were non swimmers. James Oliver, realising that he was the only member of the party who could swim, immediately swam 50 yards through the swirling waters and brought the boy safely back.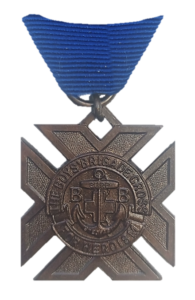 This account has been complied using records held in The Boys' Brigade Archive Collection. If there are any omissions or errors we sincerely apologise, and request that you come forward with this information, so that this can be corrected.
archive@boys-brigade.org.uk