BB Gazette Vol.42 No.3 – The Cross for Heroism has also been awarded to Private William Pearce, aged 12, of the 9th Nottingham Company, for saving the life of a small Boy in the Nottingham Canal on the 25th June. Pearce was in the vicinity of the canal when he heard shouts for help, and he at once ran to the edge and found that a small Boy of seven had got beyond his depth while bathing, and had sunk to the bottom of the canal. There were several young men present, but they went away without any attempt at rescue. Although he knew the spot was a dangerous one, young Pearce at once dived into the canal, ultimately found the little Boy and unassisted succeeded in raising him to the surface and bringing him safely to the side.
Nottingham Journal, 27th November 1933 – A seven year-old boy and his rescuer, only five years his senior, were given places of honour on the Council House steps alongside the Lord Mayor and Sheriff of Nottingham yesterday morning. The occasion was the first winter parade of the Nottingham Battalion of the Boys' Brigade when the Lord Mayor (Ald. John Farr) after attending the customary service at the Albert Hall, which was packed from floor to ceiling, took the salute from the steps of the council house.
Nearly 1600 boys and 150 officers headed by the battalion brass band, took part in the spectacular March Past. Detachments from Spalding, Derby, Leicester, and Newark augmented the parade and were given a personal welcome at the Council House by the Lord Mayor.
The ceremonial concluded with the presentation of the Boys' Brigade Cross for Heroism to Private William Pearce, the 12 year-old boy from the 9th Nottingham Company for rescuing a boy from the canal on 25th June. Cheers were raised in his honour and were renewed when the Lord Mayor, after pinning the decorations on the boy's breast picked up Alan Robinson, and said: 'This is the boy who owes his life to Pearce.' To Mr and Mrs Pearce, the boy's father and mother, who stood nearby, this was the proudest moment of all.
The Lord Mayor commended Pearce for his bravery and the Battalion upon its efficiency and said he was highly conscious of the invaluable work of Capt. Swain and his fellows Officers in the movement.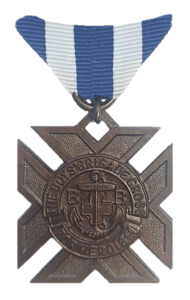 This account has been complied using records held in The Boys' Brigade Archive Collection, local and national newspaper archives and other sources. If there are any omissions or errors we sincerely apologise, and request that you come forward with this information, so that this can be corrected.
archive@boys-brigade.org.uk