BB Gazette Vol.17 No.10 – The Brigade Executive have awarded the Cross for Heroism to Sergeant John William Peterson (14), 1st Berwick Company, for saving a girl from drowning at the Slates Pier, Berwick, on 15th July, 1907. Sergeant Peterson has also been awarded the medal of the Royal Humane Society for this act.
BB Gazette Vol.18 No.4 –  The Boys' Brigade in the Far North. Visit to Orkney and Shetland By the BRIGADE SECRETARY (W A Smith) – I also had the honour and pleasure of presenting the Boys' Brigade Cross for Heroism to Sergeant J. W. Peterson, for having saved a. girl from drowning at the rocks near Lerwick, at the risk of his own life. Being a Church Service, I asked the Company to stand to attention during the presentation of the Cross, and the absolute silence and steadiness which they maintained was far more impressive than would have been any amount of cheering and applause.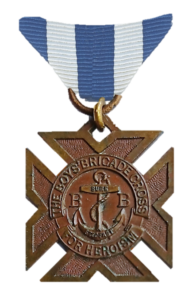 This account has been complied using records held in The Boys' Brigade Archive Collection, local and national newspaper archives and other sources. If there are any omissions or errors we sincerely apologise, and request that you come forward with this information, so that this can be corrected.
archive@boys-brigade.org.uk