BB Gazette Vol.32 No.9 – The Brigade Executive have awarded The Boys' Brigade Cross for Heroism to Lance-Corporal Charles Randle, aged 17, of the 16th Nottingham Company, for rescuing a drowning Boy from the River Trent, on Sunday, 16th March. Randle showed the greatest gallantry and disregard for his own personal safety. He was some distance from the scene of the occurrence, but was attracted by cries of distress, and running to the bank he dived into the river, which was swollen with flood, and after considerable difficulty, he succeeded in bringing the Boy safely to the bank, although nearly disabled by cramp caused by the cold.
The Police have reported the case to the Royal Humane Society for recognition, and at the recent Demonstration of the Nottingham Battalion, Randle was publicly promoted to the rank of Sergeant.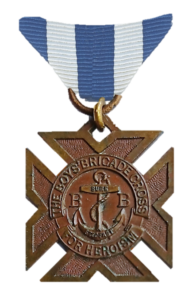 This account has been complied using records held in The Boys' Brigade Archive Collection, local and national newspaper archives and other sources. If there are any omissions or errors we sincerely apologise, and request that you come forward with this information, so that this can be corrected.
archive@boys-brigade.org.uk