BB Gazette Vol.20 No.10 – The Brigade Executive have awarded the Cross for Heroism to Private Hubert Rankine, aged 12, 1st Calderbank Company, for rescuing a Boy from drowning who had fallen through the ice on Calderbank Loch.
Airdrie and Coatbridge Advertiser 7th September 1912 – On Sunday last, at a parade of the Boys' Brigade in the Parish Church, and interesting presentation took place…to Herbert Rankin, a Calderbank lad, 10 years old. At the risk of losing his own life he gallantly saved a companion who had fallen into Calderbank Loch. The result was that he justly received the Vellum Certificate of the Royal humane Society and the Cross for Heroism of the Boys' Brigade. These awards have been followed by one from the Carnegie Hero Fund Trustees, who have deemed young Rankin worthy of a silver watch.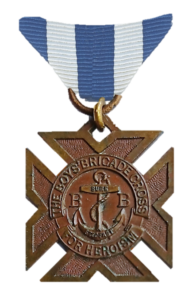 This account has been complied using records held in The Boys' Brigade Archive Collection, local and national newspaper archives and other sources. If there are any omissions or errors we sincerely apologise, and request that you come forward with this information, so that this can be corrected.
archive@boys-brigade.org.uk