BB Gazette Vol.46 No.4 – The Boys' Brigade Cross for Heroism has been awarded to Private William Riddoch, aged 13, of the 4th Inverness Company for attempting to save the life of a Boy in the River Ness on the 23rd of June, 1937.
The two Boys were fishing from a break water when the younger Boy fell in at a spot where the depth was twenty feet. Fully clothed, Riddoch at once dived in after his young companion who was unable to swim and was being carried away by the current. Riddoch reached the drowning Boy and seizing hold of him tried to swim back with him, but the child's struggles caused him to lose hold. He went after him again, but despite a second gallant effort he was unable to save the little Boy. Riddoch only gave up when he was completely exhausted and was laid up for some time as a result of the strain.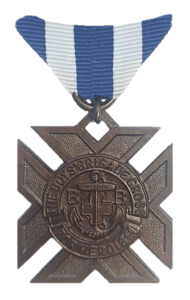 This account has been complied using records held in The Boys' Brigade Archive Collection, local and national newspaper archives and other sources. If there are any omissions or errors we sincerely apologise, and request that you come forward with this information, so that this can be corrected.
archive@boys-brigade.org.uk