BB Gazette Vol.41 No.10 – The Cross for Heroism has been awarded to Private Vincent J. Shelley, aged 12, of the 1st Cannock Company, for rescuing a child from drowning in the canal at Leacroft, Cannock, on the 30th of April.
A little Boy of five had climbed to the roof of a barge which, not being moored, swung out into the middle of the canal. The roof was wet, and the youngster slipped off it into deep water and disappeared. The only eye-witness was a youth with a paralysed arm, but he shouted to Shelley, who leapt into the water, caught hold of the side of the barge, and with his legs grasped the drowning child, and then holding on with one hand lifted the little chap into safety with the other. The rescued Boy was completely exhausted, but Shelley applied artificial respiration to the best of his knowledge, and then carried the youngster home. Shelley is small for his age, and his action showed a fine disregard for his own life, for he himself had not learned to swim.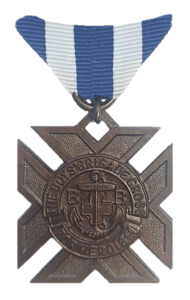 This account has been complied using records held in The Boys' Brigade Archive Collection. If there are any omissions or errors we sincerely apologise, and request that you come forward with this information, so that this can be corrected.
archive@boys-brigade.org.uk