BB Gazette Vol.20 No.9 – The Brigade Executive have awarded The Boys' Brigade Cross for Heroism in the case of Private Samuel Smart, aged I 5, 5th Nottingham Company, who lost his life in a gallant attempt to save a comrade from drowning in the River Trent. Several Boys were bathing in the river, and one of them, Harold Brown, who could not swim, was carried off his feet by the strong current. Seeing this, Samuel Smart, who had not yet been in the water, plunged in and, catching hold of Brown, told him to get on his (Smart's) back. This Brown tried, but was unable to do, and both he and Smart sank. Brown was subsequently rescued in an unconscious condition, but Smart was drowned.
The Executive have in this case handed the Cross to the parents of Private Smart, with an expression of deep sympathy with them in their bereavement, and high appreciation of the gallant and self-sacrificing action of their Boy.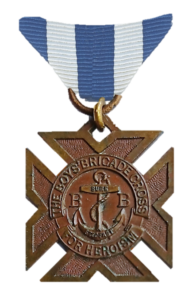 This account has been complied using records held in The Boys' Brigade Archive Collection. If there are any omissions or errors we sincerely apologise, and request that you come forward with this information, so that this can be corrected.
archive@boys-brigade.org.uk