BB Gazette Vol.54 No.1 – The Boys' Brigade Cross for Heroism has been awarded to Corporal Norman Stephen Stevens, aged 16, of the 57th London Company (Battersea) for saving a Boy from drowning in the River Thames on June 21st, 1945.
The incident occurred at Richmond where a Boy of 15 who was a weak swimmer, finding himself out of his depth and in difficulties in the swift current, called for help. Another swimmer went to his rescue, but the Boy clutched him so that he too was in danger of drowning. Stevens was on the bank preparing for a swim. He saw what had happened, and without hesitation plunged in and swam to the struggling pair. He first had to release the would-be rescuer from the grasp of the exhausted Boy, and then unaided brought the Boy to the bank. On reaching safety Stevens promptly and success fully applied artificial respiration, although he had not previously qualified for the Life Saving Badge. By this prompt and courageous act one life certainly and another probably was saved.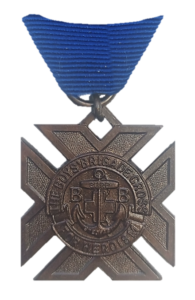 This account has been complied using records held in The Boys' Brigade Archive Collection, local and national newspaper archives and other sources. If there are any omissions or errors we sincerely apologise, and request that you come forward with this information, so that this can be corrected.
archive@boys-brigade.org.uk